Programs

Brochure
This page is the brochure for your selected program. You can view the provided information for this program on this page and click on the available buttons for additional options.
About the Universitat Pompeu Fabra (UPF)
Recently rated the third best institution in the general ranking of Spanish universities by El Mundo newspaper. Seven departments at the UPF received top place in the chart: Business Sciences, Political Sciences, Audiovisual Communication, Law, Economics, Humanities and Labour Relations.
Located in downtown Barcelona

Courses taught in Catalan, Spanish, and English

Classes available in business, humanities, law, and the sciences

Public institution established in 1990 by the Autonomous Government of Catalunya

Approximately 10,000 students spread throughout several campuses in Barcelona

Hispanic and European Studies program available for students with varying levels of Spanish

Direct enrollment at Pompeu Fabra with local students available for students with sufficient Spanish proficiency. Some courses at UPF, especially in economics and business, may also be taught in English.

With permission of Prof. Tom Cosse, business students may also take courses at ESCI, the College of International Business, which is affiliated with UPF. Click here for more information regarding the ESCI program.
Participation may be denied, or acceptance may be revoked, if a student's conduct prior to departure raises doubts regarding their suitability for the program abroad.
There is a limit on the number of UR students studying at any one location, so applicants must indicate a 2nd choice program (including a well-considered list of classes) and must be prepared to go there. Competition is considerably higher in the fall semester than in the spring.
Prior to submitting an application for UPF, students are required to meet with Ms. Michele Cox in the Office of International Education. Students with declared or intended LAIS majors or minors are required to meet with the LAIS study abroad advisor prior to the application deadline.
Non LAIS majors and minors
Junior or Senior year standing *2nd semester sophomores will be considered on a case by case basis

Cumulative GPA of 3.0 (firm) or better

Successful completion of at least semester of college level Spanish
LAIS Majors and minors
Prerequisites for LAIS students outlined on the LAIS web page http://lais.richmond.edu/program/study-abroad.html. Read this page carefully for details

LAIS majors and minors interested in the UPF exchange program are required to meet with Prof. Otero-Blanco in the LAIS department prior to submitting application.
Qualified students may take all or part of their course load with Catalan and Spanish students. There are three academic options for students to choose from while studying at Pompeu Fabra. Students may combine classes from these programs or take classes only in one particular program.
*HESP: http://www.upf.edu/studyabroad/Academic_Programs/Academic-offering/HESP.html
*Legal Studies Abroad program http://www.upf.edu/studyabroad/Legal-Studies_Abroad_Program/
*Business http://www.upf.edu/studyabroad/International_Business_Program/academicoffering.html
Approximately half of the regular undergraduate courses at Pompeu Fabra are taught in Catalan and the other half are in Spanish. If a course is cross-listed in English and Spanish, then it means that there are two sections of the same course taught in each language.
The Hispanic and European Studies Program (HESP) offers courses in the Spanish language and cultures of the Iberian Peninsula for visiting foreign students. Some of the courses are offered in English and others only in Spanish with varying prerequisites.
Students can combine courses in the HESP with the immersion program.

Students minoring or majoring in LAIS at UR will be able to transfer a maximum of 2 courses from the Hispanic and European Studies Program (HESP), which is designed for international students. LAIS majors and minors are required to take their remaining courses in the "regular" UPF undergraduate curriculum. Credit in LAIS will only be granted for humanities courses taught in Spanish or Catalan that contain substantial content that falls within the fields of Latin American and Iberian Studies.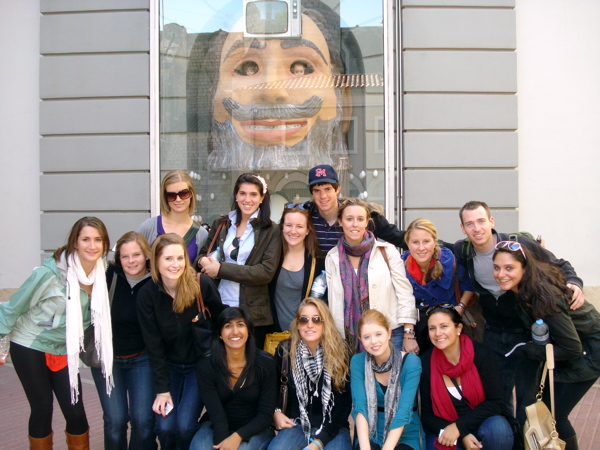 UPF courses are measured in ECTS (European Credit Transfer System) credits. Scroll down for ECTS to Unit conversion chart. For more information on conversion to units, read the Registrar's web page http://registrar.richmond.edu/registration/programs/studyabroad/units.html .
Each course weighted at 5 or 6 ECTS would equal 0.9 unit under Richmond's unit system.
Keep in mind that Richmond students must remain enrolled for the equivalent minimum unit load at Richmond, which is 3.5 units.The maximum units that may be transferred from each semester abroad is 5.5 units.

Below is a sample table with the conversion into units as it will appear on the UR transcript:
ECTS Credits

Richmond Units

3

0.5

4

0.6

5

0.9

6

0.9

7

1

8

1.2

10

1.5
Grading Scale
Spanish Grade
U.S. Equivalent

Matricula de honor: 9-10
Sobresaliente: 9-10
Accommodations
Pompeu Fabra does not own university accommodation. Richmond works with www.servicesabroad.com to assist student with locating apartments, room with a family or a room in a residencia.
Apartments are not recommended for students who are Spanish majors or minors. Please note that it is more difficult to live in a "residencia" in the spring semester only since rooms are normally rented for the full academic year so there are not many spring only rooms available.

The student "residencia" most commonly used by Richmond students is Residencia Onix.
Universitat Pompeu Fabra 14-15.docx dates and cost information.

Students may attend this program for the fall, spring and/or summer terms. Students are not required to stay for the summer term, but may do so if they wish. The summer program is very intense. Students can take no more than two classes during the summer session. Summer classes meet for two hours per day Monday-Thursday (no Friday class).

Passports are required with the visa application. Students are advised to apply early for the Spanish student visa. As visa regulations change frequently, it is recommended that students call the consulate for the latest information on fees, procedures and required documentation. Students may be required to submit the visa application in person at the consulate with jurisdiction over student's permanent residence.

For more information, please see Spanish consulate web page.

For more information
Contact Michele Cox, Office of International Education. Direct telephone: 804-289-8838



---
March 2014

This document represents the most accurate information available at the time of publication. Statements contained herein are not contractual obligations, and verbal or other representations that are inconsistent with or not contained within the document are not binding. The University of Richmond reserves the right to change without specific notice programs and the conditions under which they are offered.