Programs

Brochure
This page is the brochure for your selected program. You can view the provided information for this program on this page and click on the available buttons for additional options.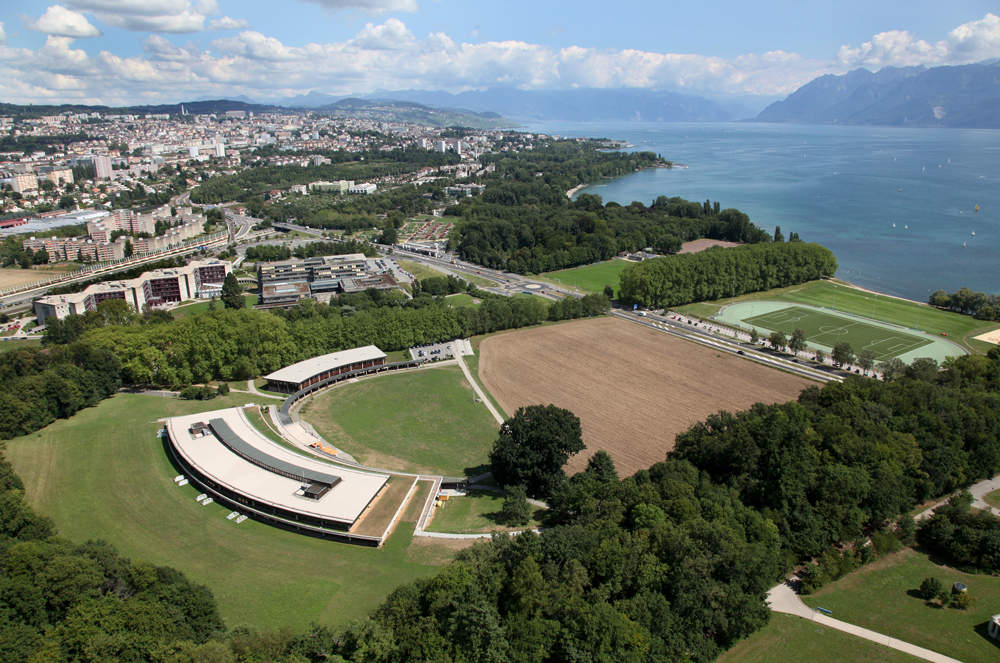 Setting of the UNIL campus.
Please note that this program is not accepting applications for spring 2017.

About the University
Founded in 1537 , the University of Lausanne (UNIL) has about 11,000 students. The UNIL campus is spread across three locations, the largest of which is on the shores of Lake Geneva/Lac Léman. This setting, with its views of the Alps and the lake, is thought by many to be among the most beautiful places in Europe.
Click here for helpful insight into the experience of living in Switzerland and studying at UNIL.

Click here for a map of the main (Dorigny) campus.

About the city
Lausanne is situated at the heart of the French-speaking region of Switzerland. It has a population of 130,000 and is located about 50 miles from Geneva. Lausanne is a lively city, hosting several universities and the headquarters of the International Olympic Committee. Public transportation includes a bus system, a metro system, and boats.
Eligibility
Level of French proficiency required depends on intended academic program (see below)
Students can take part in this exchange in the second semester of their sophomore year but may find that the range of classes open to them is limited, except for French language acquisition classes.
Note: Students must be in good academic and disciplinary standing with the University to study abroad. Each applicant's disciplinary record will be reviewed, and students must be cleared by the Office of the Dean of Richmond College or Westhampton College to study abroad. Students on conduct probation will not be able to study abroad if their probationary period extends beyond the start date of their intended program.
Participation may be denied, or acceptance may be revoked, if a student's conduct prior to departure raises doubts as to his or her suitability for the program.
Robins School of Business students may transfer back credit from only one (1) business course taken while enrolled on this program to count towards their business degree. Specific course approval must be given by Dr. Tom Cossé. RSB students may transfer courses back from non-business subjects to count towards any non-business majors/minors and general education requirements (pending departmental approval) and towards the total units needed for graduation.
Academics
Exchange students have multiple academic options at the Université de Lausanne. Before applying to this program, students must identify (a) which option they will follow and (b) which specific classes they would like to take while in Switzerland.
Study French full-time for the academic year or spring semester at the School of French as a Foreign Language. (Discuss level of French required with Office of International Programs Advisor for Switzerland.)
Attend regular university courses taught in French. Students taking this option must have completed at least six semesters of college-level French (including two classes at the 300 level) prior to departure
Attend regular university courses taught in English (limited selection). Click here to search for UNIL courses by language of instruction (be sure to specify "Bachelor" under "Levels").

If you aren't sure that you have the level of French that you would need to take regular university courses at UNIL, consider this: Some students go there for a year, taking intensive French in the fall semester and, with this preparation, they are then able to take regular university courses in the spring.
Lausanne credits and UR units
Courses at Lausanne are are assigned credit according to the ECTS system. Read about ECTS Unit Conversion to find the minimum and maximum number of credits you should take at Lausanne.
Please see this page on the website of the Registrar for an explanation of how academic credit earned abroad is converted to UR units.

Flexibility

Before going abroad, you must work with a faculty advisor in the French section on UR's Department of Languages, Literatures and Cultures (LLC) to determine the classes you will take. However, on this program (and some others), you cannot completely finalize a schedule of classes until the program begins. Also, it is not uncommon for participants to need to change their class schedules after arriving in Switzerland; this, too, must be done in consultation with a faculty advisor from the French section of LLC.

Grade scale
UNIL uses a six-point scale, with 6 the highest grade and 0 the lowest. 4 is the minimum passing score.
| | |
| --- | --- |
| UNIL grade | UR equivalent |
| | |
| 6 | A |
| 5.5 | B+ |
| 5 | B |
| 4.5 | C+ |
| 4 | C |
| 3.5 | C- |
| 3 | D+ |
| 2.5 | D |
| 2 - 0 | F |
Dates and Costs
Click this link to see Lausanne Dates & Costs.
Click here to read about scholarships for study abroad.
NOTE: Travel allowances, reimbursements, health insurance premiums and other payments above tuition costs paid by Richmond on behalf of its semester and year abroad students are available only to Richmond degree-seeking students accepted to participate on UR-affiliated abroad programs.
Accommodations
Students taking part in the Lausanne program are required to live in housing that is affiliated with the program. Students may not take part in this program if they obtain housing of another kind.

Students have a variety of housing options, which they choose themselves; visit this site for details. Meal arrangements vary with the housing chosen, but most Lausanne students do their own shopping and cooking.
Immigration requirements
Citizens of the US will need a student visa to study in Switzerland. Visit the website of the Swiss Embassy in Washington DC for details.

Citizens of the US (and some other countries) who are thinking of studying in Switzerland should be aware of a Swiss immigration rule relating to the Schengen zone.

The Schengen treaty effectively erases the borders between its member countries, so time spent in one member country counts as time spent in all of them. US citizens can spend 90 days in the Schengen zone during a six month period without having a visa. The US government has made treaties with some Schengen countries to allow US citizens to spend additional time in those countries if they obtain the appropriate visa from the government of the country in question.

However, the US government has not made such arrangements with Switzerland. The visas that the Swiss government grants to US students are valid for 90 days, the Schengen maximum. This means that the government of Switzerland cannot and will not grant a student visa to a US citizen who has spent any time in a Schengen country within six months of his or her planned study abroad experience there.

Thus US citizens who hope to study in Switzerland should not spend any time in a Schengen country within six months of their planned study abroad experience.
For more information
Contact Chris Klein in the Office of International Education.
---
This document represents the most accurate information available at the time of publication. Statements contained herein are not contractual obligations, and verbal or other representations that are inconsistent with or not contained within the document are not binding. The University of Richmond reserves the right to change without specific notice programs and the conditions under which they are offered.
Updated August 2014