Programs

Brochure
This page is the brochure for your selected program. You can view the provided information for this program on this page and click on the available buttons for additional options.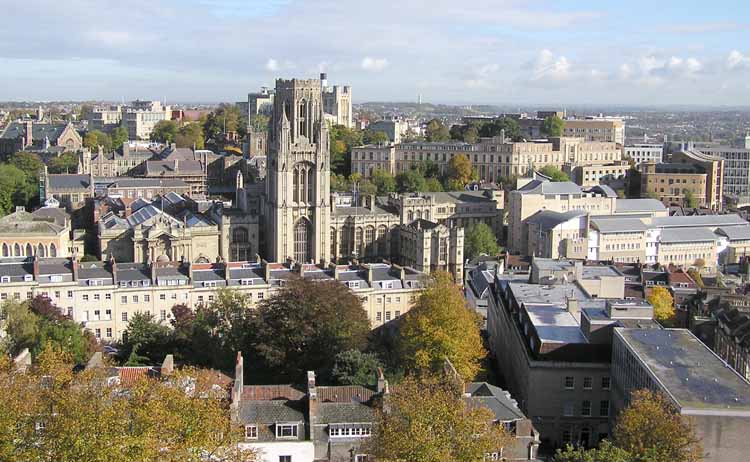 Please note that this program is not accepting applications for spring 2017.

About the University of Bristol
The University of Bristol is one of the premier universities in the United Kingdom and has a worldwide reputation for its scholarship.

For British students, it is generally the most difficult to gain admission to, after Oxford and Cambridge. It has over 16,000 undergraduate and graduate students.

The University is adjacent to the city center.

Click here for a campus map.
About the city
The city of Bristol is the regional capital of the English West Country. It has a rich heritage of architectural, literary, social and scientific institutions. It is a thriving modern city with a lively artistic community as well as leisure and sporting facilities.

Bristol is situated on a harbor on the Avon river.

Bristol has a population of around 400,000 and is located about 105 miles west of London.

Bristol is a hub for EasyJet.

London is just 90 minutes away by train.
Cumulative GPA of 3.2

GPA in the major is especially important

Note: Students must be in good academic and disciplinary standing with the University to study abroad. Each applicant's disciplinary record will be reviewed, and students must be cleared by the Office of the Dean of Richmond College or Westhampton College to study abroad. Students on conduct probation will not be able to study abroad if their probationary period extends beyond the start date of their intended program.

Participation may be denied, or acceptance may be revoked, if a student's conduct prior to departure raises doubts as to his or her suitability for the program.

Robins School of Business students may transfer back credit from only one (1) business course taken while enrolled on this program to count towards their business degree. Specific course approval must be given by Dr. Tom Cossé. RSB students may transfer courses back from non-business subjects to count towards any non-business majors/minors and general education requirements (pending departmental approval) and towards the total units needed for graduation.
Subjects available
Bristol offers full cross-registration in most departments. Subjects areas include the sciences (full year only), classics, computer science, earth sciences, English, geography, Hispanic Studies, historical studies, history of art, Law, mathematics, philosophy, policy studies, pre-med (taught from a humanities perspective), politics, sociology, theology, medieval studies, languages and women's studies. Psychology, music and drama are not recommended for study abroad students. Click here for Bristol's online course catalog.

Course load
The normal course load is 60 Bristol credit points per semester or 120 credits for the year. If you are studying in a range of departments, you may not be able to take precisely 60 credits (or 120 for full year), so margins of 55-65 are acceptable for a semester (or 115-125 for full year).

Bristol credit and UR units

60 points = 15 UR credits = 4.5 units
40 points = 10 UR credits = 3 units
20 points = 5 UR credits = 1.5 units
10 points = 0.75 units

Credit conversion to units. Please see this page on the website of the Registrar for an explanation of how academic credit earned abroad is converted to UR units.

Grade scale

| | |
| --- | --- |
| Bristol grade | UR equivalent |
| 70+ | A+ |
| 65-69 | A |
| 60-64 | A- |
| 57-59 | B+ |
| 54-56 | B |
| 50-53 | B- |
| 45-49 | C+ |
| 40-44 | C |
| 40 or lower | C-/F not eligible for UR transfer credit |
Students taking part in the Bristol program are required to live in housing that is affiliated with the program. Students may not take part in this program if they obtain housing of another kind.

Students who apply by the stated deadlines for study abroad for the fall or academic year are guaranteed on-campus housing at the University of Bristol (spring only applicants cannot be guaranteed housing). Halls are self-catering (students cook themselves) or catered (with meal plans). Students on the exchange are fully integrated with students from the University of Bristol. Single rooms are the norm, and all residences have communal kitchens and shared bathrooms. Basic furniture is provided.

Click here for the University's accommodations site.
See Dates and Costs for Bristol for program dates and a budget sheet for Bristol.

Click here to read about scholarships for study abroad.

Since Bristol is affiliated with the British Universities Transatlantic Exchange Association (BUTEX), students approved to study there are eligible to apply for the BUTEX North American Scholarship.

NOTE: Travel allowances, reimbursements, health insurance premiums and other payments above tuition costs paid by Richmond on behalf of its semester and year abroad students are available only to Richmond degree-seeking students accepted to participate on UR-affiliated abroad programs.
Citizens of the US and some other countries who study abroad for one semester may enter the UK with either Short-Term Student status or a Tier 4 (General) Student Visa.

You must obtain a Tier 4 (General) Student Visa if any of these conditions apply:


You will study in the UK for more than one semester

The British government always requires citizens of your home country to have a visa to study in the UK

You need to have a part-time job while on study abroad in the UK

You will do an internship (paid or unpaid) in the UK

It is likely that you will extend your stay in the UK beyond one semester

If both options are open to you, the OIE encourages you choose Short-Term Student Status.

Citizens of the UK, or of another country that is a member of the European Union (EU), or of the Economic Area (EEA), or of Switzerland, do not need a visa to study in the UK.
Questions?
Contact Chris Klein in the Office of International Education.
---
This document represents the most accurate information available at the time of publication. Statements contained herein are not contractual obligations, and verbal or other representations that are inconsistent with or not contained within the document are not binding. The University of Richmond reserves the right to change without specific notice programs and the conditions under which they are offered.
Updated August 2014