Programs

Brochure
This page is the brochure for your selected program. You can view the provided information for this program on this page and click on the available buttons for additional options.
Program Terms:
Academic Year,
Spring,
Calendar Year,
Fall

Homepage:
Click to visit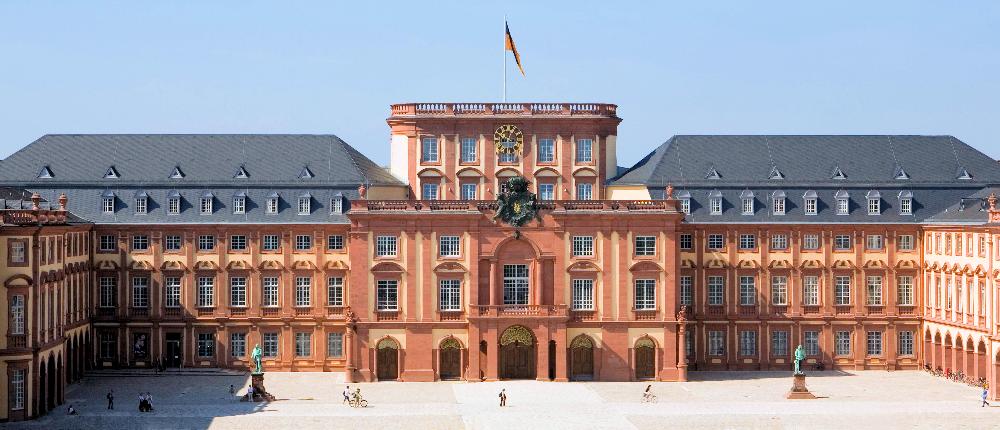 About Universitaet Mannheim
The city of Mannheim, with its 320,000 residents, is located at the intersection of the three states of Baden-Württemberg, Hessen and Rhineland-Palatinate. Located in the heart of the Rhine-Necktar Metropolitan Region, Mannheim is one of the most important business locations in Germany, with renowned scientific research institutions and a very high quality of life. Many areas of interest are less than an hour away by train, including picturesque Heidelberg, bustling Frankfurt, and the castles and vineyards of the beautiful Rhine River Valley and the Alsace region of France.

The University of Mannheim has approximately 11,000 students, including a robust international student population. Mannheim is the only German university to have adopted an international academic calendar, whereby the fall semester starts in September and ends in December, and the spring semester starts in February and ends in June.

The trademark of the University of Mannheim is its distinct profile. This profile is characterized by renowned programs in business administration, economics, and social sciences that are closely intertwined with the humanities, law, and mathematics. The University of Mannheim is recognized as one of the leading academic institutions in Germany and Europe and has received numerous rankings and awards for its quality of research and academics. The business school is the first institution in Germany to be accredited by the three most important organizations AMBA, AACSB International and EQUIS (the Triple Crown).

This program also gives students the opportunity to be involved in German culture through the Buddy Programme, Tandem partners, and excursions organized by the International Office. With the Buddy Programme, students have the opportunity to be matched with a local student for support. Students can arrange an individual pick-up with their buddy when they arrive at the train station in Mannheim. Students can also improve their conversation skills in a foreign language by finding a conversation partner through the International Office's online tandem program. There are also excursions organized by the International Office and student organizations such as a canoe tour, an International Dinner, and city trips to Frankfurt, Strasbourg, and Berlin.

Please enjoy this informative presentation and flyer about the international student experience at the University of Mannheim.

Students should generally be in their junior or senior year, although sophomores are also eligible.

Minimum cumulative GPA of 3.0 (GPA in the major is especially important)

No prior study of German language is required for students who plan to take all of their coursework in English. Students who wish to take content courses in German should have completed at least the 200 level (intermediate) German courses; one 300-level course is recommended.

German Studies students may earn credit toward the major or minor for approved coursework taken on the Mannheim program. Students should consult with German Studies coordinator Dr. Kathrin Bower (Modern Literatures and Cultures) prior to applying for the program. German majors are also encouraged to consider UR's additional German partner universities at the Universitaet Muenster or Universitaet Konstanz.

Robins School of Business students must attend an information session offered by Dr. Tom Cosse before choosing a program and submitting an application. Watch for announcements on the dates of those meetings.

Richmond Law students should consult with Associate Dean Clark Williams and Dr. Andy Spalding regarding their interest in this program.

Participation may be denied, or acceptance may be revoked, if a student's conduct prior to departure raises doubts as to his or her suitability for the program.
Course structure

Courses are offered in various styles: lectures, seminars, exercises, etc. Class sizes will generally be larger than at Richmond, ranging from 50 students to several hundred. Therefore, the teaching style is more impersonal and participation is not a big part of the classroom experience.

Courses are taught in both English and German.



NOTE: Exchange students will be assigned to a home department (faculty) and must take the majority of courses in this department. However, they can choose 1-2 courses from the University-wide electives list if places are available.




Course load

Mannheim courses are weighted in terms of ECTS (European Credit Transfer System). All credit for undergraduate students will be transferred back to UR using the Unit System. Credit for law students will be transferred back to UR on the credit system. See the charts below for a description of how individual courses on the ECTS system will transfer back under each system.

To determine the unit value of an individual ECTS course, the following formula will be used by the UR Registrar's office: # of ECTS credits divided by 7 and rounded up to the nearest tenth of a unit. EXAMPLE: a 6 ECTS credit class would be worth .9 Richmond units.

A minimum full time unit load at Richmond for undergraduates is 3.5 units and the maximum is 5.5 units. Therefore, in order to maintain full-time status you should register for 24 - 35 ECTS per semester at Mannheim. The minimum full time credit load at Richmond for law students is 9 credits. Therefore, in order to maintain full time status, students should register for a minimum of 18 ECTS credits per semester at Mannheim.

Below is a table with the conversion into units (for undergraduates):

| | |
| --- | --- |
| ECTS Credits | Richmond Units |
| 4 | .6 |
| 5 | .8 |
| 6 | .9 |
| 7 | 1 |
| 8 | 1.2 |
| 10 | 1.5 |

Below is a table with the conversion into credits (for law students):

| | |
| --- | --- |
| ECTS Credits | Richmond Credits |
| 2 | 1 |
| 3 | 1.5 |
| 4 | 2 |
| 5 | 2.5 |
| 6 | 3 |
| 7 | 3.5 |
| 8 | 4 |

Grading Scale

| | |
| --- | --- |
| Mannheim Grade | UR Equivalent |
| 1.0 | A+ |
| 1.1-1.5 | A |
| 1.6-2.5 | A- |
| 2.6-3.5 | B |
| 3.6-4.0 | C |
| Below 4 | Not eligible for transfer to UR |


Course Selection

All students selected for the Mannheim program will be required to take a semester-long German language course at the appropriate level. This course is worth 3-6 ECTS credits and can count toward the total number of ECTS students are required to enroll in. German majors and minors who plan to take some or all of their coursework in German may also elect to take the pre-semester German language course. This course is worth 4 ECTS credits and can count toward the total number of ECTS students are requierd to enroll in. Richmond will cover the costs of the semester-long German course for all students and will cover the cost of the pre-semester German course for any German major or minor who elects to take it. Courses about the German culture and economy are also offered in this department taught in English, and are available to exchange students.

Additionally, content courses are available in the following subject areas: American Studies, Business Administration, Economics, English & Literature, European Studies, Finance, German, Law, Management, Marketing, Media Studies, Philosophy, Political Science, Psychology, and Sociology.

Click on the links provided here to see the list of courses offered in each faculty as well as the University-wide electives list.

NOTE: Exchange students will be assigned to a home department (faculty) and must take the majority of courses in this department. However, they can choose 1-2 courses from the University-wide electives list if places are available.





Fall 2014 Courses





Spring 2015 Courses



back to top
Exchange students have the opportunity to apply for a room in student residence halls, organized by Studentenwerk. Studentenwerk is a Germany-wide student housing provider. Students can apply for residence in either apartments or single bedrooms in student dormitories. The rooms available in several dormitories in different areas of Mannheim include a single room with shared kitchen facility and basic furniture. After being accepted to Universitaet Mannheim, the student will receive the link and personal password for the online portal myUniMA, along with detailed information about the residences.

Recent students have lived in the dormitories at Carl-Zuckmayer Strasse, Ulmenweg, and Hafenstrasse. Of these three, Hafenstrasse is the closest to the university and Ulmenweg is the furthest away at about 20 minutes by bus.
Click here for Mannheim Dates & Costs.

Funding opportunities for study in Germany are available through DAAD. Application deadlines are very early. Do not delay! Let Abby Ward know if you have questions about DAAD scholarships.
There is no visa required for U.S. citizens to study in Germany. Only a valid passport is required. Students will have to apply for a residence permit once they are in Germany, however. Instructions about this will be given after acceptance to Universitaet Mannheim.
---
For more information, contact Abby Ward in the Office of International Education.
Updated February 2015
This document represents the most accurate information available at the time of publication. Statements contained herein are not contractual obligations, and verbal or other representations that are inconsistent with or not contained within the document are not binding. The University of Richmond reserves the right to change without specific notice programs and the conditions under which they are offered.