Programs

Brochure
This page is the brochure for your selected program. You can view the provided information for this program on this page and click on the available buttons for additional options.
Program Terms:
Academic Year,
Spring,
Fall

Homepage:
Click to visit
Restrictions:
UR applicants only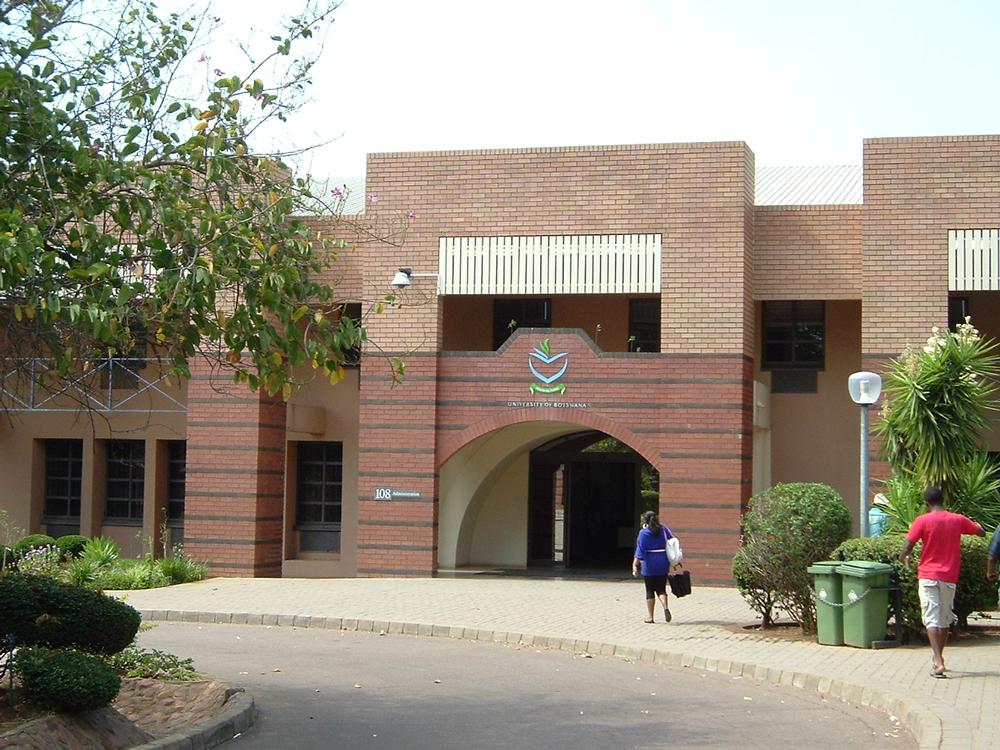 Administrative building, U. of Botswana
About the University of Botswana

The University of Botswana was originally part of a larger, trans-national institution and took its present form in 1982. It has an enrollment of about 16,000 and is composed of eight faculties (Business, Education, Engineering & Technology, Humanities, Health Sciences, Science, Social Sciences and Graduate Studies.) Click here to visit their website.

Click Introducing the University of Botswana.pdf to see more images of the campus.
Botswana is an African success story - peaceful and prosperous, with a stable government and a free press. Click here or here for background information on this fascinating country.

The capital city of Botswana, Gabarone (pronounced "ha-ba-ro'-nay") has a population of about 200,000. The city was initially built in the mid 1960s to serve as the capital of the newly-independent Botswana. It is served by an international airport and a major rail line. It is located on the Notwane River in the south-east corner of Botswana and is just nine miles from the border with South Africa.
2.75 GPA required

It is strongly recommended that students who apply to this program have taken course work on Africa.

Junior or Senior standing when program begins.

Note: Students must be in good academic and disciplinary standing with the University to study abroad. Each applicant's disciplinary record will be reviewed, and students must be cleared by the Office of the Dean of Richmond College or Westhampton College to study abroad. Students on conduct probation will not be able to study abroad if their probationary period extends beyond the start date of their intended program.

Participation may be denied, or acceptance may be revoked, if a student's conduct prior to departure raises doubts as to his or her suitability for the program.
Subjects available
The UB offers a wide variety of classes (all taught in English) in subjects as diverse as History, English, Environmental Studies, Economics, Sociology, Political Science, African Studies and Pre-Med. Go to this page and click on one of the undergraduate majors to see a list of classes available in that area.
Course load
In the U. of Botswana system, a minimum full-time semester is 15 credits, and the normal workload is 15-18 credits per semester. To convert from Botswana credits to UR units, divide the credits assigned to each Botswana course by 3.5 then round up to the nearest tenth. So a 3-credit class in the Botswana system would be 0.9 UR units, and a 4-credit class in the Botswana system would be 1.2 UR units.

Please see this page on the website of the Registrar for an explanation of how academic credit earned abroad is converted to UR units.

Robins School of Business students may transfer back credit from only one (1) business course taken while enrolled on this program to count towards their business degree. Specific course approval must be given by Dr. Tom Cossé. RSB students may transfer courses back from non-business subjects to count towards any non-business majors/minors and general education requirements (pending departmental approval) and towards the total units needed for graduation.
Grading scale
U. of Botswana numerical grade

U. of Botswana letter grade

UR letter grade
Students taking part in the University of Botswana program are required to live in housing that is affiliated with the program. Students may not take part in this program if they obtain housing of another kind.

Students stay in dorms on the UB campus. Meals are available at very reasonable prices in the university cafeterias ("refectories"), and there are many affordable restaurants within walking distance of the campus. Click here to read about housing, and here to read about dining.

- "Las Vegas" residence halls, U. of Botswana
back to top
Students pay UR tuition, and pay room & board to the University of Botswana.

Click here to see Dates & Costs for U. of Botswana program.

Click here to read about scholarships for study abroad.

NOTE: Travel allowances, reimbursements, health insurance premiums and other payments above tuition costs paid by Richmond on behalf of its semester and year abroad students are available only to Richmond degree-seeking students accepted to participate on UR-affiliated abroad programs.
US citizens (and citizens of many other countries) do not need a visa to enter Botswana. Click here to read about the immigration requirements that apply to you.
Questions?
Contact Chris Klein in the Office of International Education.

---

This document represents the most accurate information available at the time of publication. Statements contained herein are not contractual obligations, and verbal or other representations that are inconsistent with or not contained within the document are not binding. The University of Richmond reserves the right to change without specific notice programs and the conditions under which they are offered.


Updated August 2014